Self Support Roofing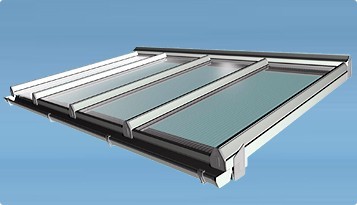 Our professionally engineered Self Supporting Roof System is available in a wide range of sizes and can be delivered quickly throughout the UK. Designed to be high quality and easy to install, the system contains all the elements required to install a complete lean to roof. Available in Brown and White as standard the glazing bars accommodate 16mm, 25mm, 32mm and 35mm Multiwall Polycarbonate Sheets or Glass units. The system consists of a choice of glazing bars, wall plates & eaves beams. There is also a range of complimentary accessories to complete your project.

With a flexibility of use and quick & easy installation, the Self Support Roof System is the Professionals' choice. This Lean To Roof System is suitable for a wide variety of applications including replacement roofing, conservatories, canopies and carports.

* Please use the stuctural spanning guide to work out the projection that the bars can support across a range of centres. Please note our self-supported roofing systems are not cantilever in design and therefore the bars still require a frontal framework for support.

To view assembly instructions please click here

To view prices and to buy online please select from the options below.