Rafter Glazing Bars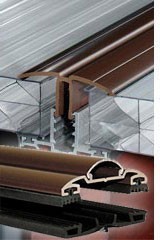 The Glazing Shop offers a selection of rafter glazing bars which are designed to be supported on wooden rafters. Within our range we have PVCu and aluminium capped bars available.

Our Standard PVCu Capped rafter bars are strong, lightweight and easy to fit. These 'snap down' bars accommodate 10mm, 16mm and 25mm Multiwall Polycarbonate Sheeting and are a cost effective solution for most applications.

Our range of Aluminium Capped rafter bars offers 50mm wide and 60mm wide bars which are robust and maintenance free. These screw down glazing bars accommodate all popular thicknesses of Multiwall Polycarbonate Sheeting and are suitable for all thicknesses of glass. Highly adaptable, powdercoated aluminium capped bars are ideal where extreme variations in temperature are experienced or in areas which are exposed to higher winds e.g coastal areas. If you require components for a full Conservatory roof system including ridges, hips etc, please select our 'Sunwood Timber Glazing' Category from the left hand menu.
To view rafter glazing prices and to buy online, select your required option below.