Rafter Glazing Bars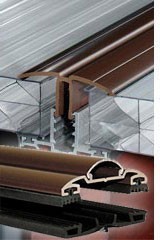 Wide range of Rafter glazing bars for all types of conservatory roofs. Full selection of timber glazing bars which are designed to be supported on wooden rafters. Within our range we have PVC and aluminium capped rafter glazing bars available.

Our Standard PVC Capped rafter glazing bars are strong, lightweight and easy to fit. We have two types of 'snap down' rafter bars. Our Sunwood standard bars are suitable for 10mm, 16mm and 25mm Multiwall Polycarbonate Sheets. We also stock the Capex pvc capped timber glazing bars that accomodate 25mm, 32mm and 35mm sheets. These snap down bars are a cost effective solution for a wide number of applications. We have PVC rafter bars available in White, Brown and Anthracite grey.

Our range of Aluminium Capped rafter glazing bars includes the 50mm wide and 60mm wide Sunwood bars. These Timber glazing bars are robust and maintenance free. The Sunwood screw down rafter bars accommodate all thicknesses of Polycarbonate Sheets and all thicknesses of glass. They have a low profile finish with neat screw concealment capping. Highly adaptable, powdercoated aluminium rafter bars are ideal where extreme variations in temperature are experienced or in areas which are exposed to higher winds e.g coastal areas.
If you require components for a full Conservatory roof system including ridges, hips etc, please select our 'Sunwood Timber Glazing' Category from the left hand menu.
July Saver! - 10% discount off your rafter bars throughout July when you purchase your polycarbonate from us, simply use the discount code BAR10 at the checkout.
For our Guide to Timber supported roofs please click here.
To view rafter glazing bar prices and to buy online, select your required option below.
What you need to build a Timber Supported Polycarbonate Roof
Whether you are looking to build a rafter supported roof on a Lean To Conservatory, Car port or Canopy the following guide will help you to choose the best products for the job.

Timber carports can look stylish and are very effective in keeping the leaves and other garden debris off your car. They can help shelter you from the rain while you get in and out of your car and in the summer can help to reduce heat build-up with the right choice of polycarbonate.

Timber Canopy roofs can be a cost effective and easy to build alternative to a purpose built aluminium canopy.
Once you have your timber framework in place, completing your roof is simple. On the diagram below the following letters represent:

A. Your timber wall plate and
B. Your eaves beam

You now need to choose elements from each of the following that best suit your project:

C. Polycarbonate sheets. Multi-wall polycarbonate is the most popular choice for carports and canopies. There are many thicknesses and colours available, all of which are suitable but some are more commonly used. As the sheets get thicker they become more rigid and can achieve greater spans between glazing bars.

Polycarbonate thickness - The most popular thickness of sheet for a car port would undoubtedly be 10mm and for a canopy it would be 16mm. 10mm is a very strong, lightweight sheet which is shatterproof and offers an UV protection layer (extruded with the sheet) as does all multi-wall polycarbonate. Many would argue that this 10mm twin-wall polycarbonate is as thick a sheet as you need for a carport or a canopy, and as they are both open sided and exposed it is pointless going for a thicker, more expensive sheet. Certainly insulation doesn't need to be factored in for these very reasons. The only real advantages of going up to 16mm or 25mm would be to achieve greater spans between rafters and to reduce noise on rainy days. 16mm can generally span up to 900mm centres and 25mm up to 1m. 10mm polycarbonate is noisier when it rains than thicker sheets. As a canopy is generally attached to your home and often outside of a room, noise may be an issue so you may want to go for a thicker sheet.

If you are roofing a conservatory you will probably want more thermal insulation. In unheated smaller conservatories 16mm is sometimes used however, if you want to keep the heat in in the winter and out in the summer, you would want to go for 25mm or even 35mm. The specifications for each can be found in our brochures area of the site.

Polycarbonate colour - In terms of colour, clear lets in the most light, then opal and then bronze. Opal is very popular as it helps to obscure any dirt or debris that can fall onto the roof over time. Bronze is better for prevention of heat build-up and aesthetically ties in well with a timber frame.

There are also options for Heatguard or Bronze Opal which are available from 25mm upwards which have a dual colour for exceptional thermal performance.

D. Rafter Glazing bars. There are two main types of glazing bars for polycarbonate that are designed for use with wooden rafters. These are either aluminium capped screw down bars or PVC capped snap down ones. They are both available in white or brown as standard but the aluminium ones offer the additional benefit of being able to be painted to another colour.

The strongest and neatest solution is an aluminium capped rafter bar of which The Glazing Shop has bars in widths of either 50mm or 60mm. Aluminium capped bars screw right through the cap down into the rafter giving a very secure fixing. These are however more expensive than their PVC capped alternatives and for this reason are mostly used in conservatory roofs, high end canopies or roofs in coastal or exposed locations. These bars suit all thicknesses of polycarbonate and are also suitable for glass.

PVC capped rafter bars are cost effective and versatile and are known as 'knock down' or 'snap down' bars. The Glazing Shop offers two types of bar. The standard bar PVC capping has dedicated lock in points for 10mm, 16mm & 25mm sheet thicknesses. There is also another bar with locking points for 25mm, 32mm & 35mm sheets. The aluminium base bar screws down into your rafter then the PVC top cap is 'snapped' into place over the sheet. For a standard carport in a non-exposed location, these are our best sellers. PVC capped rafter bars are not suitable for glass.

For both versions of bar you will need end caps. The PVC capped bars have end caps included; the aluminium capped ones need end caps to be purchased separately.

E. Sheet Closures. These are used to close off the ends of the polycarbonate sheets at the gutter end. Designed to stop water and dirt / insects from getting into the flutes of the sheets, they also neatly finish off the front edge of the roof. The Glazing shop offers a standard PVC sheet closure and a professional one. The professional one has drainage holes to increase breathability and prevent condensation forming in the sheet. It also has a co-extruded upper lip which provides an improved waterproof barrier.

F. Roof Edging. You also have a choice of how to finish off the left and right hand edges of your roof. The edging sections are available in powder coated aluminium or PVC. The aluminium 'F' sections are placed in the outside half of the bars at the left and right edges, this balances the bars as the sheet is already held on the inside half of the bar. The downwards (longest) leg of the 'F' acts as a smooth flat face to neatly cloak of the edge of the roof.

In summary

For a Conservatory you would probably choose the following:
25mm polycarbonate sheets
Aluminium Capped rafter bars & bar end caps
Professional Sheet Closures
Aluminium F sections

For a Budget carport you would probably choose the following:
10mm polycarbonate sheets
PVC capped rafter bars & PVC bar end caps
Standard PVC Sheet Closures
PVC universal edge trims

A canopy would fall somewhere between the two depending on your rafter spans and the finish you are trying to achieve.

This is by no means and exhaustive guide and if you require any more help or information please do not hesitate to contact us, or give us a call on 01536 446395 we are here to help!